FISH CROQUETTES – CIGAR SHAPED CUTLETS A croquette is a small (bread) crumbed fried Roll, usually containing these […]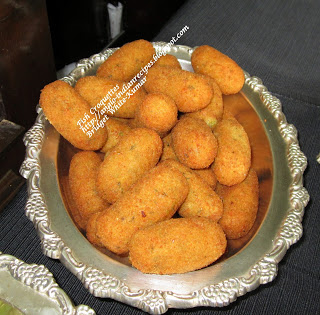 FISH CROQUETTES – CIGAR SHAPED CUTLETS
A croquette is a small (bread) crumbed fried Roll, usually containing these main ingredients, i.e. mashed potatoes and filling of one's choice such as minced meat, (veal, beef, chicken, or turkey), fish, vegetables, boiled eggs, etc, flavoured with herbs and spices.
The croquette is usually cigar shaped or cylindrical. It is then dipped in beaten egg, rolled in bread crumbs and then deep fried in hot oil.
The term Croquette is derived from the French term 'Croquer' which means "to crunch". Croquettes were therefore first invented by the French but gained popularity the world over and is relished as a dinner delicacy and also as fast food
Croquettes were introduced into India during the Colonial Period. The early Khansamas and cooks turned the leftovers especially Turkey and Chicken Roast leftovers into Croquettes. Initially the Croquettes were bland and insipid but over a period of time were given an Anglo-Indian touch with the addition of cumin, green chillies and turmeric in those early times.
Croquette can be served as a finger-food or as an entrée accompanied by a dipping sauce. While the croquettes are usually fried they can also be baked. Either way, the crispy exterior of the croquette should perfectly compliment the moist and tasty filling inside.
RECIPE FOR FISH CROQUETTES
Serves 6 Preparation Time 45 minutes
Ingredients
300 grams good fleshy fish fillets
1 cup boiled and mashed potatoes
2 teaspoons chopped mint
1 teaspoon pepper powder
Salt to taste
2 tablespoons tomato sauce
1 teaspoon butter
1 egg beaten
Yolk of one egg
3 tablespoons oil
3 tablespoons bread crumbs
Wash the fish and cook in a little water with some salt for about 5 minutes or till the fish is just cooked. Remove from the heat and cool. When cold mash the fish with a fork. Mix in the mashed potatoes, mint, pepper, salt, tomato sauce, butter and the egg yolk. Form into croquettes (cigar shape).
Heat the oil in a flat pan. Dip each croquette in the beaten egg, roll in bread crumbs then shallow fry on all sides till brown. Drain and serve with tartar sauce.
Note: 1 tin of Tuna Fish can be used instead of the fresh fish to make Tuna Fish Croquettes.
(Visited 68 times, 1 visits today)