CHICKEN AND VEGETABLE HOTCH POTCH is a legacy from the Scots to Anglo-Indian Cuisine. It was very popular in the olden days and was invariably prepared at least once a week in Anglo-Indian Homes long ago. It was rather like a stew and was a meal in itself.
It was also known as the Harvest Broth in Scotland as all the fresh vegetables and freshly slaughtered meat at summer's end were packed into a light broth for a wonderfully fresh stew.
This dish is quite tasty and attractive, with white, bright orange, and green vegetable chunks, redolent with chicken, fresh herbs and a few spices all cooked together to a 'hotch-potch consistency'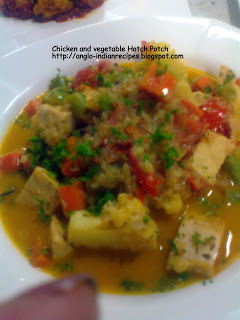 Ingredients
½ kg chicken with the bones
2 onions chopped finely
4
carrots
, peeled and chopped
3 tablespoons chopped spring onions
1 cup chopped beans
1 cup fresh green peas
1 medium
cauliflower
cut into florets
2 pieces cinnamon
4 cloves
1 teaspoon chopped garlic
2 bay leaves
Oil for frying
2 teaspoons chopped corriander or parsley (optional)
Heat oil in a suitable vessel and add the onions, cinnamon, cloves, Bay leaves and chopped garlic. Fry till the onions turn golden brown. Add the chicken together with all the other ingredients and mix well. Add sufficient water and cook till the chicken and vegetables are soft and the gravy is thick. Serve with crusty bread.
0
(Visited 9 times, 1 visits today)