Caramel Custard was a popular dessert during the time of the Raj. It is typically a milk and egg mixture baked in a dish with sweet caramel lining its base.
This easy-to-make pudding is popular all over India and is still a favourite dessert item. It can be steamed in a pressure cooker, baked in the oven or cooked in a double boiler on the stove top. The Caramel Syrup is usually poured in the bottom of the mould before adding the Custard. Once the custard is done, it is turned upside down and served with the soft caramel sauce on top.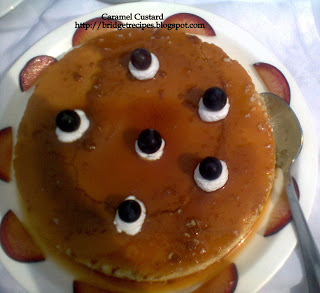 RECIPE FOR CARAMEL CUSTARD
Serves 6
Ingredients
3 large Eggs
2 cups milk
3 tablespoons sugar
½ teaspoon vanilla essence or extract
½ cup sugar for the Caramel

Melt the ½ cup of sugar in a sauce pan till it caramelizes. Coat the sides of a custard mould or 6 individual custard cups with the caramel syrup. Beat the Eggs, sugar, milk and vanilla essence together. Pour this mixture over the caramel. Steam gently in a pressure cooker or a pan for 45 minutes or until the mixture is just firm.
Keep aside to cool. When cold turn over on a serving dish
Alternatively, the Custard could be baked by placing the custard mould / custard cups in a baking pan. Pour boiling water to about one inch in the pan. Bake at 350° for 40-45 minutes or until a knife inserted near center comes out clean. Remove from the pan and cool on wire racks.
To unmold, run a knife around

the rim of the mould and each custard cup and invert onto a dessert plate.
Serve warm or chilled
.
0
(Visited 37 times, 1 visits today)