ANGLO-INDIAN PLAIN PEPPER WATER Pepper water ( Rasam in local parlance) invariably forms part of the afternoon meal in Anglo-Indian […]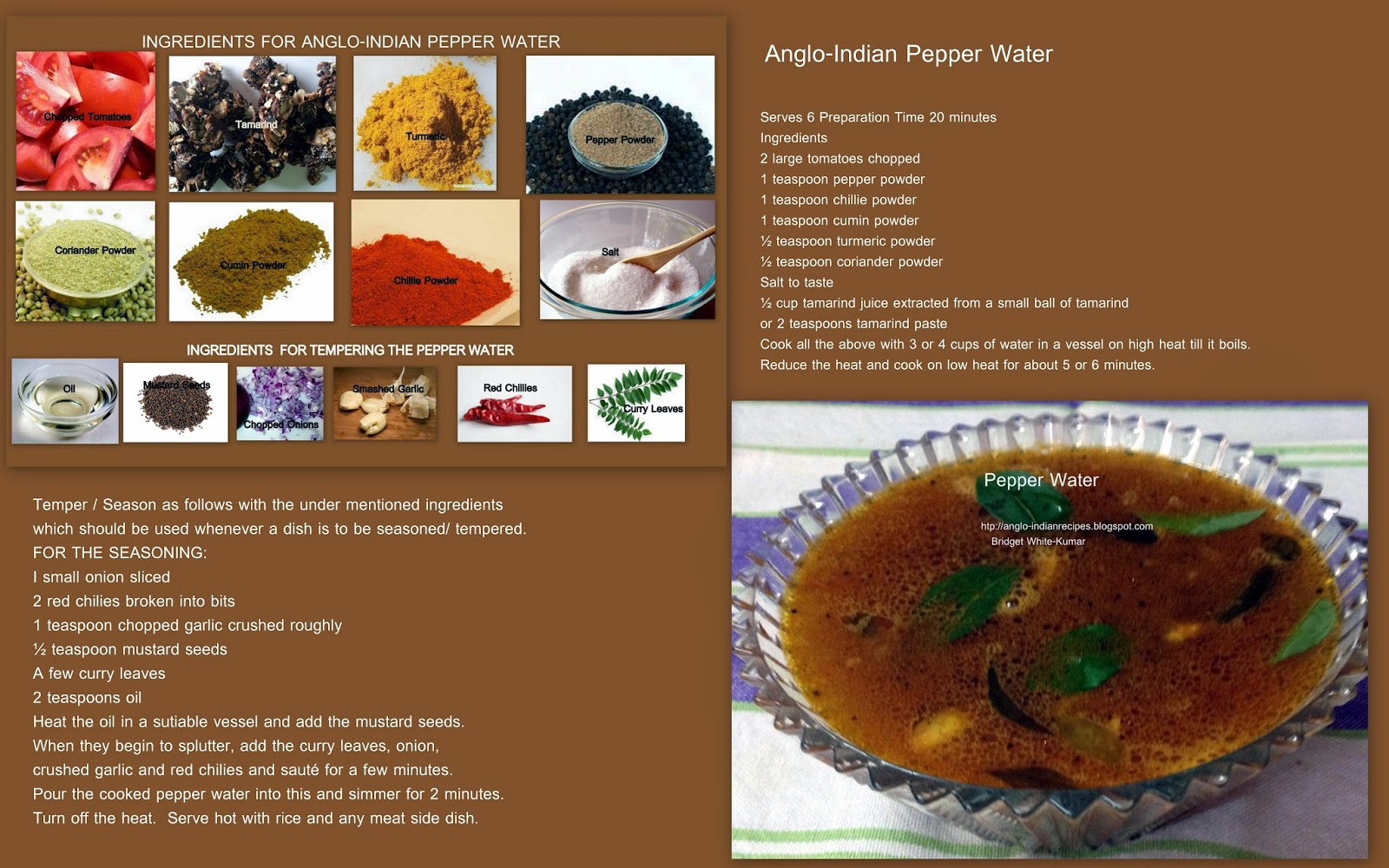 ANGLO-INDIAN PLAIN PEPPER WATER
Pepper water ( Rasam in local parlance) invariably forms part of the afternoon meal in Anglo-Indian Homes. It's usually had with plain white rice and accompanied by either a meat, poultry, or a seafood dish that is generally a dry fry. Pepper water should always be of a watery consistency. Since its good digestive as well, some people like to drink a cup of pepper water after a meal. Here is a simple step by step Recipe for preparing tasty Anglo-Indian Pepper Water. This recipe is featured in my Recipe Book ANGLO-INDIAN CUISINE - A LEGACY OF FLAVOURS FROM THE PAST.
Serves 6 Preparation Time 20 minutes
1 teaspoon chillie powder
½ teaspoon turmeric powder
½ teaspoon coriander powder
½ cup tamarind juice extracted from a small ball of tamarind or 2 teaspoons tamarind paste
Cook all the above with 3 or 4 cups of water in a vessel on high heat till it boils. Reduce the heat and cook on low heat for about 5 or 6 minutes. Season as follows with the under mentioned ingredients which should be used whenever a dish is to be seasoned/ tempered.
FOR THE TEMPERING / SEASONING:
2 red chilies broken into bits
1 teaspoon chopped garlic crushed roughly
Heat the oil in a suitable vessel and add the mustard seeds. When they begin to splutter, add the curry leaves, onion, crushed garlic and red chilies and sauté for a few minutes. Pour the cooked pepper water into this and simmer for 2 minutes. Turn off the heat. Serve hot with rice and any dry side dish such as Meat Pepper Fry, Meat Jalfrazie, Chicken Fry, Fried Fish or Prawns or a piece of fried Salt fish
(Visited 384 times, 1 visits today)