VANILLA SPONGE CAKE WITH BUTTER FROSTING There's nothing quite like sharing generous slices of mouthwatering homemade cake with family or […]
VANILLA SPONGE CAKE WITH BUTTER FROSTING
There's nothing quite like sharing generous slices of mouthwatering homemade cake with family or friends at Easter. A simple recipe for a melt in the mouth Vanilla Sponge Cake with creamy butter icing which would leave one craving for more than a slice.
(I made this cake and the Easter Eggs for a feature in the Bangalore Mirror for the Easter Sunday Edition)
250 grams plain flour or Maida
250 grams unsalted butter
1.5 teaspoons vanilla essence
Sift the flour, salt and baking powder together.
Cream the butter and sugar together.
Add the beaten eggs and vanilla essence and mix well.
Fold in the flour a little at a time till well combined
Add a little milk if the mixture is too thick.
Pour into a greased and floured cake tin and bake for 40 to 45 minutes till the cake is done.
Remove from the tin when cold by inverting over a plate.
Keep aside for at least a day before Icing it.
Beat 200 grams butter and 500 grams icing sugar together until creamy.
Add one teaspoon vanilla essence and 2 drops pink or any other food colour of your choice.
Using a spatula, cover the cake with the butter icing.
Then with a wet fork make soft peaks across the surface of the icing.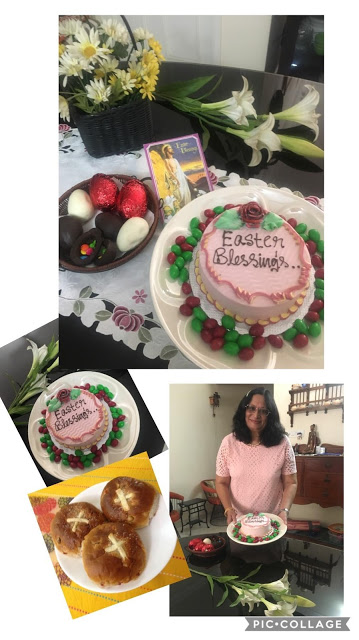 (Visited 50 times, 1 visits today)