STUFFED SNAKE COY / SERPENT GOURD CURRY Ingredients 1 kg beef or mutton mince 1 medium sized snake gourd scrape […]
STUFFED SNAKE COY / SERPENT GOURD CURRY
1 kg beef or mutton mince
1 medium sized snake gourd scrape and cut into 2 inch pieces after removing the insides
3 medium sized onions chopped
A small bunch of coriander leaves chopped
2 teaspoons ginger garlic paste
3 teaspoons chillie powder
2 teaspoons coriander powder
½ teaspoon turmeric powder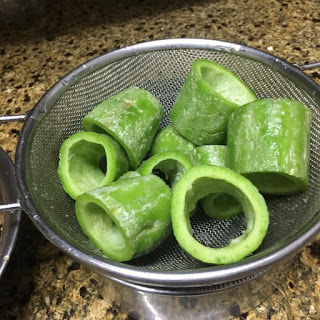 Wash the snake gourd and keep aside.
Marinate the mince with a teaspoon of chillie powder, turmeric powder, a little salt and some chopped coriander leaves.
In a pan heat the oil and fry the chopped onions till golden brown.
Add the ginger garlic paste and sauté for some time. Add the chillie powder, coriander powder, spice powder, green chilies, coconut and salt and fry for a few minutes. Add the tomato puree and fry till the oil separates from the mixture. Now add 2 cups of water and bring to boil.
Meanwhile stuff the snake gourd rings with the marinated mince. Pack each ring tightly so that the mince does not fall out.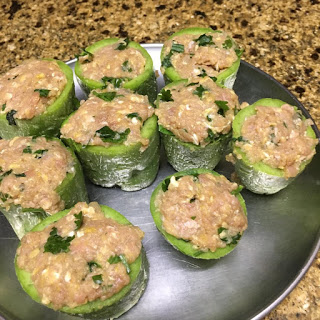 Slowly drop the stuffed snake gourd pieces into the boiling curry and cook on low heat till the gravy is sufficiently thick and the mince is cooked.
Garnish with chopped coriander leaves.
Serve hot with coconut rice or plain rice.
(Visited 184 times, 1 visits today)