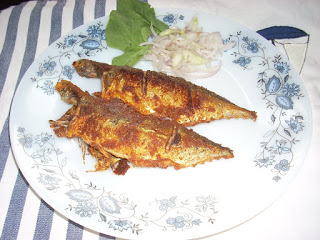 6 medium sized mackerels
3 tablespoons oil
3 teaspoons chilly powder
2 teaspoons pepper powder
2 teaspoons ginger garlic paste
1- teaspoon cumin powder
1- teaspoon coriander powder
½ teaspoon turmeric powder
2 teaspoons lime juice
1-teaspoon salt
Clean and remove the scales, fins and insides of the fish. Wash well. Mix all the above ingredients together with a little water to form a paste. Slit each fish lengthwise on either side keeping the center bone intact. Stuff the paste into each fish very evenly on either side of the center bone. Rub some of the paste on the outsides as well. Heat oil in a flat pan and shallow fry the fish on both sides till evenly brown. Serve with onion rings and chips.
(Visited 5 times, 1 visits today)