SHRIMPS IN A GREEN CURRY BASE (Medium sized Shrimps simmered in a coriander and mint gravy - The fresh taste of […]
SHRIMPS IN A GREEN CURRY BASE
(Medium sized Shrimps simmered in a coriander and
mint gravy - The fresh taste of coriander and mint forms an excellent starter or appetiser to a great meal)
Serves 6
​
Time required: 45 minutes
2 teaspoons ginger garlic paste
4 green chilies 6
tablespoons coriander leaves
2 tablespoons mint leaves
A one inch piece of Cinnamon bark
½ teaspoon turmeric powder
Grind the green chilies, coriander leaves, mint, cinnamon, cloves, and cumin seeds to a smooth paste in a blender.
Heat oil in a suitable pan
and fry the onions t
ill golden brown.
Add the
ginger garlic paste and turmeric powder and fry for a few minutes, then add the
ground paste
and
salt and mix well
. Keep frying on low heat till the oil separates from the mixture. Add the Shrimps
and cook for around 7 or 8 minutes till the Shrimps are cooked and the gravy is very thick.
Serve as a side dish or as a starter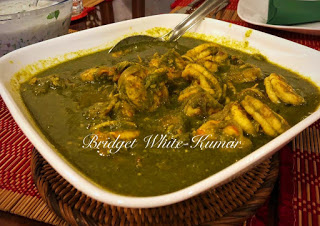 (Visited 35 times, 1 visits today)