. ROSE COOKIES / ROSA COOKIES / ROSETTE COOKIES Rose Cookies are delicious fried Anglo-Indian Christmas Treats. Though named as Cookies, they are […]
. ROSE COOKIES / ROSA COOKIES / ROSETTE COOKIES
Rose Cookies are delicious fried Anglo-Indian Christmas Treats.
Though named as Cookies, they are not cookies in the strict sense as they not baked but deep fried in hot oil. Rose Cookies are also known as Rosette Cookies, Rosa Cookies, etc and are prepared with a sweetened batter consisting of Flour, Eggs, Vanilla Extract and Coconut milk. Believed to be another culinary legacy left by the Portuguese in India, they are known as Rose de Coque or Rose de Cookies in Portugual. (They are also known as Rosettes in Sweden and Norway). The crisp cookies are made by plunging a special hand-held 'Rose Cookie Mould'or 'Rosette Iron' lightly coated with a sweet batter into hot oil. The Rose Cookie Mould or Rosette Iron is a long handled gadget with intricately designed iron moulds of different flowers such as roses and daisies. The Mould or Iron is heated to a very high temperature in oil, dipped into the batter, then immediately re-immersed in the hot oil to create a crisp shell around the hot metal. The mould or iron is shaken slightly, till the Rose Cookie gets separated from it. The delicate golden brown, light and crispy cookie thus separated from the mould /iron floats to the top and is taken out from the hot oil with a flat porous spoon. Though a time consuming and laborious process, Rose Cookies are incredibly delicious.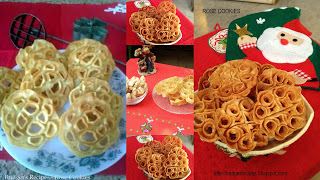 RECIPE FOR ROSE COOKIES
Serves 6 Preparation time 1 hour
250 grams rice flour (optional)
1 teaspoon vanilla essence
Mix all the ingredients together to form a smooth slightly thick batter.
Heat oil in a deep pan till it reaches boiling point. Now place the rose cookie mould into the oil to get hot. When the mould is hot enough dip it half way only into the batter and put it back immediately into the boiling oil. Shake the mould gently to separate the cookie from it. Heat the mould again and repeat the process. Fry rose cookies till brown. Continue in this way till the batter is finished.
Note: The batter will stick to the rose cookie mould with a hissing sound only if it is sufficiently hot otherwise it will just slide off the mouldhi
(Visited 78 times, 1 visits today)