My Recipe for RAILWAY MUTTON / LAMB CURRY was selected as the READER RECIPE OF THE MONTH in the July […]
My Recipe for RAILWAY MUTTON / LAMB CURRY was selected as the READER RECIPE OF THE MONTH in the July issue of the BBC GOOD FOOD MAGAZINE. As a result I won a special gift Hamper woth Rs 6000.00 from Debenhams. The Hamper contained a 5 piece Spoon Set and a Jamie Oliver Grater Gift set which has both the fine and coarse graters. Wanted to share this lovely bit of news with all the readers and followers of ALL MY BLOGS as well as my Page PRESERVING ANGLO-INDIAN CUISINE on FACE BOOK . Thanks for all your love and support. God bless you all. Bridget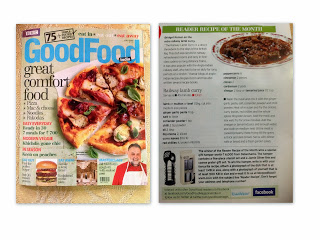 RAILWAY LAMB / MUTTON CURRY
Serves 6
Preparation Time 45 minutes
Ingredients
½ kg mutton or lamb cut into medium size pieces
6 peppercorns
2 pieces cinnamon
2 cloves
2 cardamoms
8 to 10 curry leaves
4 red chilies broken into bits
1teaspoon chillie powder
1teaspoon ginger garlic paste
2 tablespoons oil
2 tablespoons vinegar or ½ cup of tamarind juice
Wash the meat and mix it with the ginger garlic paste, salt and the chilly powder. Heat oil in a pan and fry the onions, curry leaves, red chillies and spices till golden brown.
Add the meat and mix well.
Fry for a few minutes. Add the vinegar / Tamarind juice and sufficient water and cook on medium heat till the meat is done. Keep frying till the gravy is thick and dark brown.
Note: Substitute beef for lamb / mutton if desired.
(Visited 33 times, 1 visits today)