POTATO CHOPS (PEPPER MINCE AND POTATO CUTLETS) Serves 6 Preparation Time 1 hour Ingredients ½ kg fine beef or lamb / […]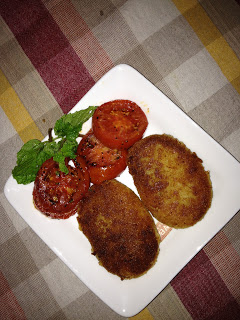 POTATO CHOPS

(PEPPER MINCE AND POTATO CUTLETS)
Serves 6
Preparation Time 1 hour
Ingredients
½ kg fine beef or lamb / mutton mince
1 medium sized onion chopped finely
2 teaspoons pepper powder
Salt to taste
3 tablespoons oil
1 egg beaten
2 tablespoons breadcrumbs
Boil the potatoes, remove the skin and mash well.
Keep aside.
In a pan add the mince, onions, pepper powder and salt with a little oil and simmer on low heat till the mince is dry.
Remove from heat and cool for some time.
Form the mashed potatoes into even sized balls. Make a depression in the center and fill with the pepper mince. Flatten each ball to form a round cutlet. Dip in the beaten egg then roll in the breadcrumbs.
Heat oil in a flat pan and shallow fry the cutlets on low heat till golden
brown on both sides.
Serve with Grilled Tomatoes or Ketchup
(Visited 61 times, 1 visits today)