MINTY CHICKEN CASSEROLE Serves: 6 Preparation and cooking time: 1 hour Ingredients 1 chicken cut into 8 […]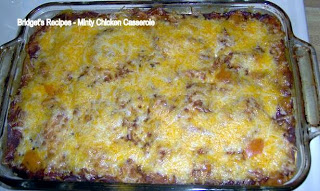 MINTY CHICKEN CASSEROLE
Preparation and cooking time: 1 hour
1 chicken cut into 8 to 10 large pieces
1 cup finely chopped mint leaves
2 teaspoons ginger garlic paste
1 teaspoon all spice powder or garam masala powder
1 teaspoon tomato-chilly sauce
2 tablespoons grated cheese
1. Wash the chicken and prick all over with a fork.
2. Mix together the chopped mint, ginger garlic paste, lemon juice, vinegar, cumin powder, salt, all spice powder, tomato-chilly sauce and chilly powder and apply this mixture to the chicken pieces.
3. Leave to marinate for 30 minutes.
4. Transfer to a buttered baking dish. Drizzle oil over the chicken. Sprinkle grated cheese on top.
5. Bake in a moderate oven (355 degrees) for 45 minutes.
Serve with mash potato and salad.
(Visited 21 times, 1 visits today)