MEAT BALL PEPPER FRY Ingredients 500 grams mince meat either beef or mutton 3 onions sliced 1/4 teaspoon turmeric […]
MEAT BALL PEPPER FRY
Ingredients
500 grams mince meat either beef or mutton
1/4 teaspoon turmeric powder
1 teaspoon ginger garlic paste
2 teaspoons Pepper powder
Mix the mince with 1/2 teaspoon pepper powder, 1/4 teaspoon turmeric, 1/4 teaspoon salt and 1/2 teaspoon ginger garlic paste
Heat the oil in a suitable pan and fry the onions till golden.
Add the ginger garlic paste, turmeric, and pepper powder and fry for a few minutes.
Add 2 cups of water and mix well. Bring to boil. When the gravy is boiling well, reduce heat and drop in the meat balls one by one.
Shake the pan so that the mixture covers all the balls well.
A tempting variation to the usual Meat Ball Curry. Convert your boring mince to this tempting and very appetizing Pepper Fry Meat Balls. Use any mince meat of your choice. Could be a starter or a side dish with dal and rice or pepperwater and rice or just have it with bread and chapattis
Cover the pan and cook on medium heat for about 10 to 15 minutes till meat balls are cooked and the gravy thickens.
Remove and let it rest for a few minutes.
Serve with Rice or Bread.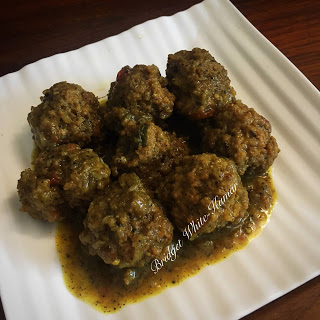 (Visited 334 times, 1 visits today)