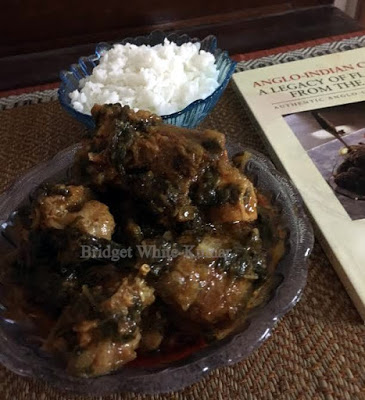 Meat and Fenugreek leaves Curry (Methi / Venthium Leaves Curry) is a typical Anglo-Indian Dish prepared very regularly for lunch in most Anglo-Indian homes mostly in the South of India even today. It took its origins in the Madras Presidency where the tamil cooks incorporated it in the daily fare. In the olden days, for whatever reason, it was also known as Marata mode Curry or just Meat and Greens Curry probably due to the Marata influence in the South.
Preparation time 45 minutes
½ kg meat (beef or mutton)
1 cup of fenugreek / Venthium greens / Methi Greens washed well
2 big onions chopped finely
2 teaspoons chillie powder
1/4 teaspoon turmeric powder
2 teaspoons coriander powder
2-teaspoons ginger garlic paste
½ cup coconut paste or coconut milk (optional)
Heat oil in a suitable pan or pressure cooker and fry the onions well.
Add the ginger garlic paste and sauté lightly. Add the tomato puree, chillie powder, turmeric powder and coriander powder and fry for some time. Add the meat and the greens and mix well. Continue frying for some time till the oil separates from the mixture and the greens shrivel up.
Add salt, coconut paste and 2 cups of water (or add more for and pressure cook till done.
(Visited 246 times, 1 visits today)