LAMB MINCE AND POTATOES Serves 6 Preparation and Cooking Time 45 minutes ½ kg Mutton / Lamb Mince 2 big onions chopped […]
LAMB MINCE AND POTATOES
Serves 6 Preparation and Cooking Time 45 minutes
½ kg Mutton / Lamb Mince
2 big onions chopped
1 or 2 teaspoons mild chillie powder
1/2 teaspoon coriander powder
½ teaspoon turmeric powder
2 teaspoons ginger garlic paste
1teaspoon chopped ginger
2 green chilies chopped
2 tablespoons coriander leaves
2 or 3 tablespoons oil
Salt to taste
2 one inch pieces of cinnamon
2 potatoes boiled, peeled and cut into quarters
Heat the oil in a pan and fry the onions, cinnamon, chopped ginger and green chillies till golden brown.
Add the mince, ginger garlic paste, coriander powder, turmeric powder, chillie powder and salt and mix well.
Let it fry for a few minutes.
Add the chopped coriander leaves and cook on low heat for about 20 minutes to ½ an hour till the mince is cooked and all the water evaporates.
Add the boiled potatoes and simmer for just 2 or 3 minute for the potatoes to absorb the flavours and the mince is almost dry and gives out a nice aroma.
Serve hot with rice or bread or chapatis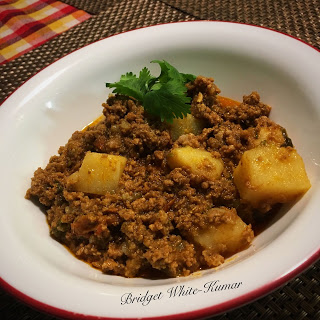 (Visited 64 times, 1 visits today)