The term 'Junglee' means wild or crazy in Hindi and it also refers to someone or something that is rough […]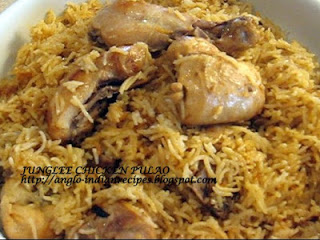 The term 'Junglee' means wild or crazy in Hindi and it also refers to someone or something that is rough round the edges and has no finesse! This rice dish is just that -

a mish-mash of ingredients and Spices that are readily available in the kitchen such as onions, tomatoes, chillies, whole spices etc. The recipe varies from person to person. Many choose to incorporate leftover vegetable and meat dishes into it. Each family has their own version of this crazy rice dish or Junglee Palau. This is my version of Junglee Chicken Palau
Serves 6

Preparation and Cooking Time 1 hour
2 cups Basmati rice or any other long grained rice
1 Kg chicken chopped into medium size bits
2 teaspoons chillie powder
3 big onions sliced finely
3 or 4 green chilies sliced lengthwise
2 tablespoons ginger garlic paste
½ teaspoon turmeric powder
4 cloves, 3 small sticks of cinnamon, 4 cardamoms
Wash the rice and soak it in a little water for about 20 minutes.
Heat the ghee in a suitable vessel or rice cooker and add the spices and bay leaves and fry for a few minutes. Now add the onions and ginger garlic paste and sauté for some time. Add the turmeric, mint leaves, coriander leaves and chillie powder and fry for a while. Next add the chopped tomatoes and chicken keep on frying till the oil separates from the mixture. Add the curds, slit green chilies, coconut and salt and 1 cup of water and simmer for a few minutes till the chicken is tender. Now add the rice and 3 cups of water and cook on l

ow heat till done mixing once or twice. Serve with curd chutney and chicken or meat curry.
(Visited 323 times, 1 visits today)