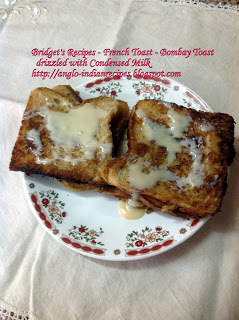 FRENCH TOAST

or

BOMBAY TOAST is also known as 'Eggy Bread' in Anglo-Indian parlance. I

t is a very popular breakfast item in most Anglo-Indian Homes, and is often served as an accompaniment to the traditional breakfast of Fried Eggs, Bacon, Sausages etc. – A perfect breakfast for a lazy saturday!
½ teaspoon vanilla essence
Butter or Ghee for frying
Break the eggs in a bowl and beat well with the sugar. Add the vanilla essence and milk and mix well.
Heat a flat pan and add a tablespoon of butter or ghee and smear all over. When hot dip one slice of bread at a time in the egg and milk mixture and shallow fry each slice on both sides till golden brown. 2 or 3 slices can be fried at a time. Serve hot with either Condensed Milk, Jam, honey or powdered sugar.
To make a savoury french Toast, omit the sugar and vanilla essnce and instead add a dash of pepper and salt. Chopped green chillies, chopped onions and chopped corriander leaves (Cilantro leaves) could also be added for a spicy French – Bombay Toast.
0
(Visited 17 times, 1 visits today)