T

he 'drumstick tree', is well known for its multi-purpose attributes, wide adaptability, and is very easy to grow.

It is mostly grown as a backyard tree in most Indian homes.

Its leaves, pods and flowers are packed with nutrients important to both humans and animals

. It is valued mainly for its tender pod, which is antibacterial and a wonderful cleanser. Drumstick is rich in calcium, phosphorus and vitamin C. The leaves are especially beneficial in the treatment of many ailments due to their various medicinal properties and their rich iron content. Drumstick is also a good blood purifier.
Here is an easy recipe for a simple Drumstick and Dhal Curry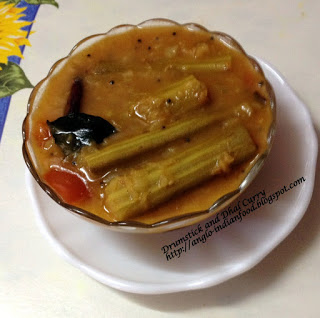 Serves 6 Preparation Time 1 hour
Ingredients
4 drumsticks peeled and cut into 2 inch pieces,
2 teaspoons chillie powder,
1 teaspoon coriander powder,
½ teaspoon turmeric powder,
1 teaspoon cumin powder,
2 tomatoes chopped,
1 teaspoon crushed garlic,
Salt to taste,
1 teaspoon mustard,
2 red chilies broken into bits,
A few curry leaves,
1 tablespoon oil
Wash the dhal and cook it along with the tomato, chillie powder, coriander powder, cumin powder, turmeric powder and drumsticks with sufficient water in a pressure cooker.

When done open the cooker, add salt and some more water and mix well.
In another vessel, heat oil and add the mustard, broken red chilies and smashed garlic and fry for some time. When the mustard starts

spluttering pour in the cooked dhal. Serve with steamed rice.
0
(Visited 7 times, 1 visits today)