COCHRANE PLACE, KURSEONG I've just got back from the most amazing Food Event at the launch of the Gourmet Week […]
I've just got back from the most amazing Food Event at the launch of the Gourmet Week at Cochrane Place Kurseong in the Darjeeling Hills. Conceived and curated by Dr Ashish Chopra who is India's top Culinary Historian, Author, Gourmand, T V Host, Flavour Analyst and Travel Writer. The launch of the Cochrane Place Gourmet Club, was a Week long festival celebrating the love of food. (Feb 14th to 19th). Cochrane Place Kurseong is the restored stately British Colonial home of late Percy Cochrane the District Magistrate of Kurseong. Perched on a ridge surrounded by lush tea gardens the building is set in stone, log and cast iron splendour offering panoramic views of the Himalayas, it was the perfect setting for a week of scrumptious Food.
I'm just repeating the words of Dr Ashish Chopra "Its all happening at COCHRANE PLACE,KURSEONG in the midst of Tea country this month .. Bridget White Kumar weaves her magic with Anglo Indian cuisine, Sohini Basu, Cordon Bleu Pastry chef does magic with her cup cakes, Susmit Bose, the legendary Urban folk musician enthralls us with his golden voice, Ramaa Shanker cooks up some soul food of tasty Vegetarian Dishes, Kaveri Ponnapa Kambiranda, the celebrity author, Anthropologist and Gourmand teaches us how to make a Coorg special and one of my favourites Pandi curry, Avijit Dutt, the grand theatre man and actor shares his travel and culinary experience, Yours truly Ashish Chopra musters up dishes from my forthcoming book Tribal cuisines of India and introduces the black bird kadaknath. GROVER ZAMPA joins in the fun and gets us to taste their wines and pair them with respective cuisines"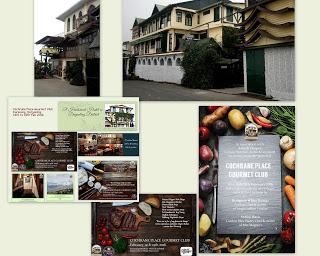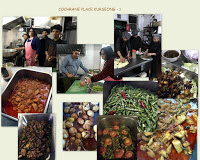 "On day One, our lunch began beautifully with a group of British Heritage Railway enthusiasts dawning upon Cochrane Place to savour a specially created Anglo Indian Railway menu served during the days of the Raj... With Bridget White Kumar cooking and Dhiraj Arora in assistance taking over the kitchen and mustering up a splendid meal consisting of Railway Chicken Curry, Egg Vindaloo, Railway Vegetable Cutlets, Vegetable Jal Frezi,Country Captain Beans, Mulligatawny Soup with a twist and the most awesome Pineapple upside down cake baked by Sohini Basu along with a Beetroot Carrot Halwa"
In like manner t he Menus were specially crafted each day to revisit the days of Colonial Raj Cuisine. A 2nd World War Army Camp Menu was specially created to honour 2 Army Generals of the Area who were the special guests at dinner such as the Army Camp Soup, Col Standhursts Lamb Curry, Bengal Lancers Mince Cutlets, etc. Other Colonial Anglo-Indian Dishes such as Pork Vindaloo. Dak Bungalow Mutton Curry, Grandma's Country Captain, Inspection Bungalow Vegetable Stew, Chillie Pork Fry, Stuffed Aubergines, Brown Sahib Soup, Okra and Potato Pepper fry, Vegetable Jal Frazie Shepherd's Pie, Vegetarian Cottage Pie, A variety of baked dishes, etc, etc, were on the menu and thoroughly enjoyed by the guests. The Chicken and Lamb Roasts were marinated in a Grover Red Wine Marinade and the Stews and soups were given a liberal dash of Grover White Wines. To round off all the Hot Food, we stuffed ourselves with decadent Desserts prepared by Sohini Basu and her two talented assistants from Mrs, Magpies Kolkotta Apart from the Gourmet Dinners, the Chefs and Kitchen staff of Cochrane Place dished up some delicious local dishes, Bengali Food and Chinese Dishes. They excelled in feeding us sumptuous Breakfasts, Snacks and Short Eats besides the endless cups of hot tea in different flavours to offset the cold weather. We were well and truly stuffed !!!!!
Once again in the words of Dr Ashish Chopra "They say the success of any event is how good it has gone. ..In this case it was fantastic bonding ..A connect of each one of us ..Be it food. .music... great conversations. Spiritual ..emotional .. This was one event where we learnt from each other. .Our happiness quotient was 100 percent. .. We shared.. we cared.. and we are parting only to bond. .Thank you Susmit Bose Bridget White Kumar Kaveri Ponnapa Kambiranda Ramaa Shanker Sanjeev Pahwa Pooja Kapoor Narendra Vinni Gupta Dhiraj Arora Priti Sen Arora Prescilla Zinyu Sohini Basu aunty Rita dhiren gulati Mona Maliah Bholanath Majee Ballabh Maliah Naresh Ponappa and everyone. This list is endless. . Sanjeev Kumar Sharma Shalini Sharma Suraj Arora Malay Kumaryou were surely missed. .. We shall be back at Cochrane place very very soon. .. watch out for details"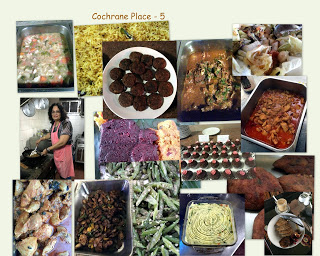 Dhiraj Arora
,
Priti Sen Arora
,
Ashish Chopra
,
Ramaa Shanker
,
Sohini Basu
,
Prescilla Zinyu
,
Pooja Kapoor
,
Susmit Bose
,
Bholanath Majee
,
Kaveri Ponnapa Kambiranda
,
(Visited 51 times, 1 visits today)