ANGLO-INDIAN CHILLIE BEEF FRY Serves 6 Preparation time 1 hour Ingredients 1 kg good beef cut into medium size pieces […]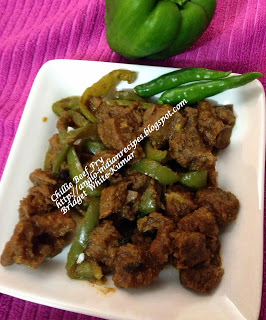 ANGLO-INDIAN CHILLIE BEEF FRY
Serves 6

Preparation time 1 hour
Ingredients
1 kg good beef cut into medium size pieces
4 green chillies
2 capsicums / green peppers cut into strips
3 big onions sliced
1 teaspoon chopped ginger
2 teaspoons chopped garlic
½ teaspoon pepper
2 tablespoons vinegar
Salt to taste
½ teaspoon turmeric
3 tablespoons oil
Boil the meat in a little water till tender. Keep the remaining soup aside.
Grind the chillies, ginger, garlic, turmeric and pepper together and mix in the vinegar.
Heat oil in a pan and fry the onions till golden brown. Add the cooked meat, ground masala and the capsicum and mix well. Add the remaining soup and cook on slow heat till the meat is brown.
(Visited 49 times, 1 visits today)