CHEESE STRAWS Flakey Cheese Straws were popular tea time snacks in the olden days. Here's an […]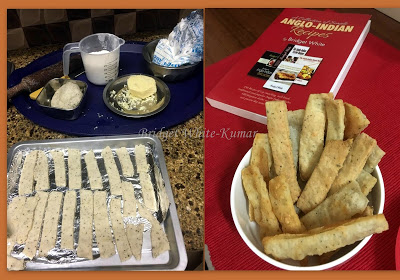 CHEESE STRAWS
Flakey Cheese Straws were popular tea time snacks in the olden days. Here's an easy recipe for simple Homemade Cheese straws with a hint of pepper to bring on the nostalgia. This recipe and lots of other Anglo-Indian Tea Time Snacks are featured in my Cookery Book A Collection of Simple Anglo-Indian Recipes.
Ingredients
250 grams butter or margarine
250 grams cheese shredded
1 tablespoon pepper powder
Sift the flour, salt and pepper powder together. Empty into a bowl and add the butter, and cheese. Mix lightly with a fork. Now add the water a little at a time until the flour is moistened and forms a ball. (Add a little more water if requied). Turn the dough out onto a floured surface and roll out into a rectangle shape about ¼ inch thick. Cut the dough into 3 inch stips.
Place these strips on an ungreased baking tray and bake at 150 degrees C for 10 minutes or until the cheese straws are golden and puff up.
Alternately, heat oil in a pan and deep fry the strips till golden brown. Drain and serve.
(Visited 489 times, 1 visits today)