BEEF PEPPER MINCE AND POTATOES Serves 6 Preparation Time 45 minutes Ingredients ½ kg Beef Mince 2 big Onions chopped […]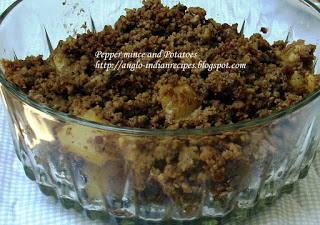 BEEF PEPPER MINCE AND POTATOES
Serves 6
Preparation Time 45 minutes
Ingredients
½ kg Beef Mince
2 big Onions chopped
½ teaspoon turmeric powder
1 teaspoon chopped garlic
2 green chilies chopped finely
2 tablespoons oil
2 teaspoons pepper powder
2 Potatoes boiled and chopped into small pieces
Heat oil in a pan and fry the chopped garlic and onions till golden brown. Add the green chilies, turmeric powder, pepper powder and sauté for 3 minutes.
Add the mince and salt and mix well. Cook on low heat for about ½ an hour till the mince is cooked and all the water evaporates. Add the Potatoes and mix well. Simmer on low heat for 3 more minutes.
Serve hot with bread or chapattis.
Substitute Beef Mince with lamb / Mutton / Chicken /Pork Mince if desired.
(Visited 35 times, 1 visits today)