GREEN MASALA MEAT CURRY Ingredients 1/2 kg meat (either mutton, lamb, beef, chicken, pork, etc) cut into medium size pieces […]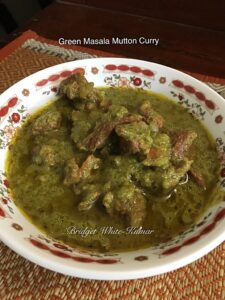 1/2 kg meat (either mutton, lamb, beef, chicken, pork, etc) cut into medium size pieces
1 teaspoon ginger garlic paste
2 one inch pieces of cinnamon
1 teaspoon coriander powder
¼ teaspoon turmeric powder
6 tablespoons chopped coriander leaves
2 teaspoons chopped mint leaves
2 teaspoons chillie powder
Grind the coconut, coriander leaves, mint, green chillies and tomato to a smooth paste.
Heat oil in a pan and fry the chopped onions, chopped garlic, cinnamon and cloves till golden brown.
Add the meat and mix well.
Add the chillie powder, ginger garlic paste, turmeric powder, coriander powder and cumin powder and fry till the pieces become firm.
Now add the ground paste and fry for about 5 minutes on low heat.
Add salt to taste and 2 cups of water and simmer till the meat is cooked and gravy is thick.
Serve hot with rice or chapattis.
(Visited 634 times, 1 visits today)