ANGLO-INDIAN TOMATO RICE or TOMATO PALAU Ingredients 4 large tomatoes pureed and diluted with water to get 4 cups of […]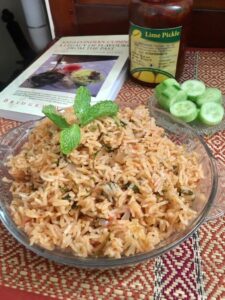 ANGLO-INDIAN TOMATO RICE or TOMATO PALAU
Ingredients
4 large tomatoes pureed and diluted with water to get 4 cups of juice or 1 pack of tomato puree diluted to get 4 cups of juice.
3 tablespoons chopped coriander leaves
2 large onions sliced finely
2 cups Raw Rice or Basmati Rice
Salt to taste
2 teaspoons chillie powder
2 teaspoons ginger and garlic paste
4 cloves, 3 cardamoms, 3 pieces of cinnamon
4 tablespoons oil or ghee
2 tablespoons chopped fresh mint

Heat oil in a pan or a rice cooker and sauté the spices for a few minutes. Next fry the onions to light brown. Add the ginger garlic paste and chillie powder for a few minutes. Add the salt, mint, coriander leaves and tomato juice and fry for a few minutes. Add the rice and cook till the rice is done.
Serve with salad and Chicken Curry or Pork Vindaloo.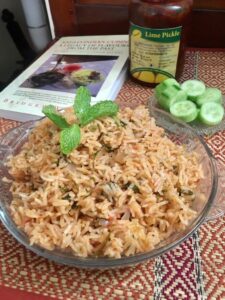 (Visited 608 times, 1 visits today)