A Roast is one of the most simple and easy-to-make dishes that require very little work and effort. When stumped over what to cook, most people usually just decide to make a roast. When properly done, there's no greater culinary pleasure than tucking into the juicy roasted meat. Even the left overs have their uses. The brown burnt residue at the bottom of the roasting pan can be converted into a delicious sauce with a little butter and a dash of wine. The left over bits of meat can also be used in sandwiches, salads, etc.
Making a roast is a real fulfilling experience and one could really innovate with the ingredients depending on individual taste. For a simple, uncomplicated version just pepper and salt would suffice. However a Pot Roast is very popular as vegetables such as potatoes, turnips, carrots, beans onions, etc could be added as well. These vegetables, make the dish truly delicious as they cook in the natural juices of the meat. Try out these easy recipes for some delicious Anglo-Indian Roasts. " So Come, lets raise a toast to Anglo-Indian Roasts"
CHICKEN ROAST
1 whole chicken cleaned and washed well
Salt to taste
2 teaspoons pepper
1 teaspoon Chillie Powder
½ teaspoon turmeric powder
2 tablespoons oil or ghee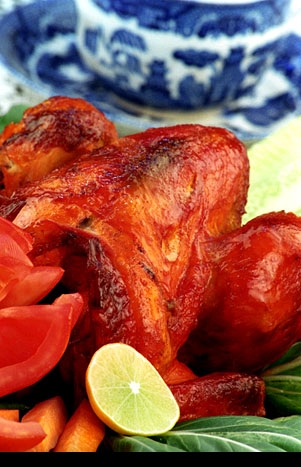 Marinate the chicken with the salt, chillie powder, turmeric powder and pepper powder for about ½ an hour. Heat oil or ghee in a thick -bottomed pan or pressure cooker and add the whole chicken. Turn the chicken from side to side and fry for about 5 minutes Cover the vessel with a tight lid and simmer over low heat turning the chicken occasionally till the chicken is cooked and all the water is absorbed. Continue to cook till the chicken is roasted to a lovely golden brown. Serve with roasted potatoes and boiled vegetables.
BEEF POT ROAST
2 kg chunk of either tender mutton or beef
2 teaspoons refined flour (maida)
2 teaspoons pepper powder
Salt to taste
2 teaspoons vinegar
4 tablespoons butter
2 big onions sliced
3 large potatoes peeled and cut into halves
A few carrots, beans, turnips, etc (optional)
Wash the meat and rub the flour, salt, pepper and vinegar well into it all over. Heat a large pan or pressure cooker and add the butter. Place the meat in this and brown all over, turning it from side to side. Add sufficient water and cook till the meat is tender. Add the sliced the onions, potatoes and other vegetables to the meat. Simmer on low heat till all the water evaporates, turning the meat from side to side, till the meat is nicely brown all over and the potatoes and vegetables too are well roasted. Serve hot or cold with bread
Serve hot or cold with steamed vegetables and bread
SPICY ANGLO-INDIAN PORK ROAST
2kg pork (1 whole piece) from the shoulder portion
2 teaspoons pepper powder
4 dried red chillies broken into bits
3 pieces of cinnamon about ½ inch each
1 teaspoon chilly powder
½ teaspoon turmeric powder
2 or 3 onions sliced 1 tablespoon vinegar
1 tablespoon oil
Salt to taste
Wash the pork and rub it well all over with the salt, pepper, chilly powder and turmeric powder. Spread the sliced onions evenly in a fairly large greased baking dish. Lay the chunk of pork on the layer of onions. Sprinkle the broken red chillies and cinnamon over it. Drizzle the oil all over the meat. Shake the dish so that it spreads evenly. Cook in a moderate oven (355 0 ) for about one and a half hours till the meat is soft and brown. (Turn the meat over every half hour so that it browns all over evenly).
Serve with mash potato and Bread or Rice.
The Pork Roast could be prepared using a Pressure cooker instead of baking in an oven.
(Visited 99 times, 1 visits today)