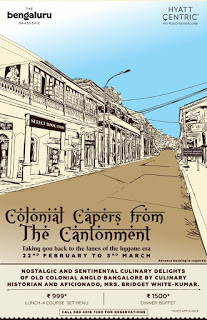 ANGLO-INDIAN FOOD FESTIVAL AT THE HYATT CENTRIC BANGALORE
The Hyatt Centric, Bangalore is holding an Anglo-Indian Food Festival - 'Colonial Capers from the Cantonment' from 22nd February to 3rd March 2019 - bringing back Nostalgic and Culinary Delights of old Colonial Anglo-Bangalore at their Bengaluru Brasserie.
I am assisting them in bringing back to life the old Colonial and popular Anglo-Indian dishes that will take one back down memory lane of the by-gone Era. I have curated 5 special menus of the old popular dishes for a 'la Carte Lunches and Buffet Dinners. The special dishes from this festival include Colonial Dishes such as the Railway Mutton Curry, The Dak Bungalow Curry, Grandma's Country Captain Chicken, Potato Chops, Colonel Standhurst's Beef Curry, Pork Country Captain, Bengal lancer's Shrimp Curry, Pork Bhooni, Meat Jal Frezie, Devil Pork Curry, etc, and typical Anglo-Indian Dishes such as Saffron Coconut Rice, Junglee Pilaf, Meat Ball Curry (Bad Word Curry), Devil Chutney, Doll Curies, Vegetable Curries and side dishes, etc.
The Menu varies slightly each day both for lunch and the dinner buffet so that a wider variety of Anglo-Indian Dishes are featured.
A selection of the set menu that was served for lunch consisted of the following:
Starters were Pepper Chicken Bites, Vegetable Panthras (crumbfried panrolls stuffed with sautéed veggies) and lamb mince Potato Chops. Mains took us to Railway Mutton Curry, Anglo-Indian Meat Ball Curry or Bad Word Curry, Anglo-Indian Doll Curry (Dhal was always pronounced as Doll by us), Pepper Ladyfingers Fry (Bandy Coy) and Saffron Yellow Coconut Rice) and White Steamed Rice. A selection of Anglo-Indian pickles and relishes and our very own Devil Chutney added zing to the meal together with short glasses of Anglo-Indian Pepper Water. The Superb meal was rounded off with a selection of desserts such as steamed ginger pudding, bread pudding, Trifle and Kal Kals served portion wise.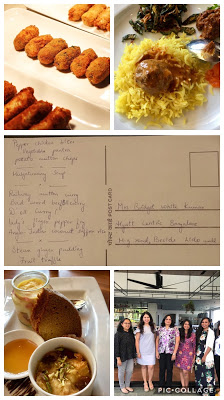 A selection of the dishes on the Buffet at the on-going Anglo-Indian Food Festival at the Hyatt Centric Bangalore were:
Starters and short eats from the Live counter such as Pepper Chicken Bites, Corriander Chicken Nibbles, Cutlets, Lamb Mince Panthras, Vegetable Panthras (Crumb-fried pan-rolls stuffed with sautéed lamb mince or veggies) and lamb mince Potato Chops.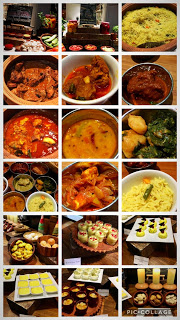 The Buffet had Mulligatawny Soup, Meat and Vegetable Broth, Army Camp Soup, Lantil Soup, Chicken in Red Wine, Country Captain, Railway Mutton Curry, Dak Bungalow Chicken, Fish in Green Masala, Pork Vindaloo, Junglee Pulaf, Anglo-Indian Pepper Water, Meat and Vegetable Broth, Beef Chops, Pepper Chicken, Fish Curry, Lady Finger Pepper Fry, Drumstick and Potato Curry, Tomato Pulaf, Cheesy Cauliflower Bake, Saffron Coconut Rice, Bad Word Curry, etc. etc, etc along with mouth-watering Desserts such as Trifle Pudding, Bread and Butter Pudding, Blancmange, Embassy Pudding, Pears stewed in Red Wine etc, etc, along with a wide selection of breads and buns - a real feast at the Dinner Buffet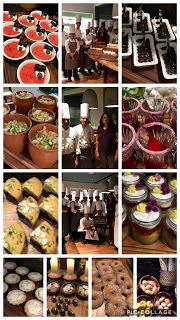 All credit goes to Chef Manish, Chef Babu Ram, Chef Debaditya and their team for their excellent interpretation of my recipes, and bringing out these old delicacies perfectly each day. Chef Manish adds his own special touches to make the whole experience memorable. Not forgetting Anum Ajani, Preetam Rai, and all at the Hyatt Centric Bangalore.