Here is an old recipe for ENGLISH TOASTED TEA CAKE. It was also known as ROGAN in the Northern parts of […]
Here is an old recipe for ENGLISH TOASTED TEA CAKE. It was also known as ROGAN in the Northern parts of India and served at Tea time in the Boarding Schools in Darjeeling, Mussoorie, Ooty, etc. it was also known as BISCUIT BUN, TEA BISCUIT, BISCUIT ROTI, etc in the South. Try it out and bring back the Nostalgia.

The concept of the English High Tea in the afternoons which was a direct throw back of the Raj quickly became an Anglo-Indian custom in the early part of the century. One could conjure up images of the English and Anglo-Indian 'Memsahibs' enjoying afternoon tea laid out on tables covered with snowy white tablecloths, seated on white garden chairs on a velvet green lawn and being served tiny cucumber sandwiches, cakes, scones, butterfly cakes, and pastries by obsequious servants, and drinking tea from miniature fine Bone China teacups (all legacies of the British Raj), bringing to mind, scenes of an ordered, easy, leisurely life amid gentle Indian settings in those early times.

In the true British sense, Afternoon Tea is a light meal typically eaten between 3pm and 4 30pm. But sadly this wonderful tradition has all but died out. Everyone is too busy these days and no one has time to sit down to share these innocent pleasures with friends. I thought I'd stir up some nostalgia and talk about this now almost forgotten tradition where, our mum's would make the perfect cup of tea by pouring boiling hot water over 2 tablespoons of Brooke Bond Red Label tea leaves in a beautiful China or porcelain Tea Pot. The tea was set to rest for about 10 minutes to allow the tea flavour to slowly seep in the hot water. It was kept suitably warm with a Tea Cosy (which we hardly see these days. The tea would then be poured slowly into cups through a tea strainer and sugar and milk added according to one's preference. (These days, a teabag in a cup of water passes off as Tea)
This delightful cup was always accompanied with a few choice Anglo-Indian Snacks – Some of them were Cheese, Straws, tiny cucumber sandwiches, hot mince puffs, Marie Biscuits, Scones, Toasted Tea Cakes, Crumpets, etc. Why don't we bring this practice back in our life and invite a few friends over for a leisurely Anglo-Indian Tea Afternoon.


An English Teacake is usually a light, sweet, yeast-based bun containing dried fruits such as currants, sultanas or orange peel. It is typically split, toasted, buttered, and served with tea. It is flat and circular, with a smooth brown upper surface and a somewhat lighter underside

A Tea Cake is therefore a slightly hard bun or cake. The name is commonly used for whatever bread or cake is traditionally served for afternoon tea that can be applied loosely to any kind of cake that is sturdy enough to be picked up with the fingers.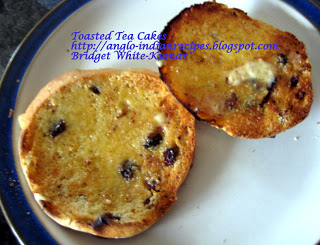 RECIPE FOR TOASTED TEA CAKE / TEA BISCUIT
Baking time: 30 minutes
Ingredients
4 cups plain flour
½ teaspoon baking powder
¼ teaspoon salt
200 grams butter
2 tablespoons caster sugar / sugar
2 tablespoons raisins or sultanas
1 egg
½ cup water
½ cup milk
Preheat the oven to 150 degrees.
Sieve the salt, baking powder and flour together, Add the butter and mix until it is like breadcrumbs. Mix in the dried fruit, sugar, milk, and the egg and form a soft dough. (Add the water if the dough is too stiff otherwise omit the water) Split the dough into eight round balls and gently flatten them into the traditional teacake shape.
Place on a greased baking tray and bake for half an hour at 150 degrees. Remove from the oven, cool on a cooling rack.
Cut each tea cake in half and smear each

half with butter and jam or honey

while still warm accompanied by a hot cup of tea for a perfect afternoon tea treat
(Visited 61 times, 1 visits today)