A Few Quick Serving Ideas using Eggs from my Recipe Book SIMPLE EGG DELICACIES 1. Hard-boiled eggs either plain or […]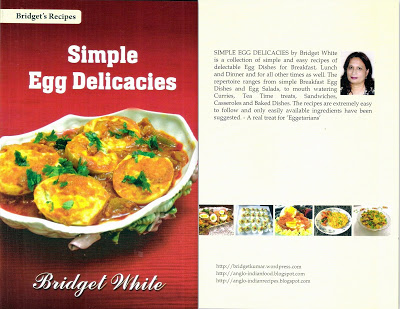 A Few Quick Serving Ideas using Eggs from my Recipe Book SIMPLE EGG DELICACIES
1. Hard-boiled eggs either plain or in sandwiches are easy options for on-the-go lunches. They are fun to eat at picnics and outdoor parties.
2. To make an easy healthy Egg Salad, mix chopped up hard-boiled eggs with fresh lemon juice, olive oil, onion leeks, tomatoes, boiled peas, and salt and pepper to taste
3. Children love their Eggs with Toast Soldiers. Make soft boiled eggs, season with salt and pepper and serve with toast strips.
4. A quick party treat is Breaded Eggs. Take a few hard boiled eggs, peel, and cut them into halves. Dip each in beaten egg then roll in bread crumbs. Shallow fry each breaded egg in vegetable oil, until crisp and brown. Serve with ketchup or a dip.
5. To make an easy Quiche in a hurry, blend together 3 eggs, a cup of flour, ½ cup of milk, a tablespoons of shredded cheese, 2 tablespoons butter, ½ teaspoon baking powder, 3 tablespoons chopped spinach and half a teaspoon of salt. Bake in a suitable dish for 30 minutes at 200 Degrees till set. Serve hot with any sauce.
6. For a quick grab and go Breakfast, combine 2 eggs, 2 tablespoons milk,
A pinch of salt in a small microwave safe dish and beat well. Place in a microwave oven and microwave on high for just a minute. Open microwave, top with a tablespoon of grated cheese and some chopped tomato. Microwave again on high for one more minute till the eggs are firm. Eat with bread and butter.
7. To make quick baked eggs as individual servings, butter 3 or4 small glass baking cups or dishes. Add some chopped tomatoes, coriander leaves and mushrooms in each. Break an egg over this layer, season with salt and pepper or chillie flakes and then sprinkle grated cheese on top. Bake the eggs in an oven at 180 Degrees C for 10 to 12 minutes. Serve with buttered toast.
8. A good way to use up left over chicken and vegetables in the fridge is to make it into a nice skillet egg dish, Shred the chicken or meat into strips. Saute a chopped onion in some butter in a hot skillet. Add the shredded chicken / meat or left over veggies and mix well. Add a couple of chopped tomatoes and fry for just a minute. Break 3 or 4 eggs over this and season with salt and pepper. Leave the eggs to cook till set. Garnish with chopped coriander leaves and serve hot with Toast.
9. Make a quick healthy Egg Drop Soup by bringing to boil 3 cups of water, 1 chicken soup cube, a few chopped spring onions, 1 stick cinnamon, a few pepper corns and a dash of salt. Reduce heat. Whisk together 2 or 3 eggs in a small bowl Season with a dash of salt and pepper. Holding a fork over the bowl, pour the beaten eggs slowly through the tines. Whisk the broth gently with your other hand as you pour. Let the soup stand for a few seconds to finish cooking the eggs. Garnish with chopped parsley or mint leaves.
10. If your child refuses to have egg, then camouflage it in a tasty Egg Flip Milk shake. Blend together, a big cup warm milk, 1 egg, ½ teaspoon vanilla essence / extract and a tablespoon sugar. Pour into a glass and sprinkle grated nutmeg on top. Kids love it.
(Visited 24 times, 1 visits today)