INTRODUCTION FROM A COLLECTION OF SIMPLE ANGLO-INDIAN RECIPES - by Bridget White A FEW TIPS ON HOW TO GET THE […]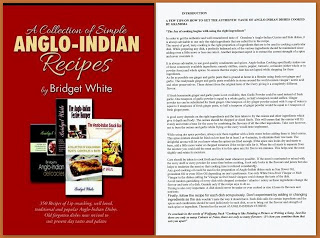 INTRODUCTION FROM A COLLECTION OF SIMPLE ANGLO-INDIAN RECIPES - by Bridget White
A FEW TIPS ON HOW TO GET THE AUTHENTIC TASTE OF ANGLO-INDIAN DISHES COOKED BY GRANDMA
"The Joy of cooking begins with using the right ingredients"
In order to get the authentic and well remembered taste of Grandma's Anglo-Indian Curries and Side dishes, it is always advisable to use only the right ingredients that are called for in the recipe.
The secret of good, tasty cooking is the right proportion of ingredients that are to be used in cooking a particular dish. While preparing any dish, a perfectly balanced mix of the various ingredients should be maintained since adding even a little more or less can ruin it. Another important aspect is to extract the correct strength of a spice and never overstate it.
It is always advisable, to use good quality condiments and spices. Anglo-Indian Cooking specifically makes use of these commonly available ingredients: namely chillies, cumin, pepper, turmeric, coriander (either whole or in powder form) and whole spices. So ensure that the expiry date has not lapsed while shopping for these ingredients.
As far as possible
use ginger and garlic paste that is ground at home in a blender using fresh root ginger and garlic. The readymade ginger and garlic paste available in stores around the world contain vinegar / acetic acid and other preservatives. These detract from the original taste of the Curry giving it a completely different flavour.
If fresh homemade ginger and garlic paste is not available, then Garlic Powder could be used instead of fresh garlic. One teaspoon of garlic powder is equal to a whole garlic, so half a teaspoon would suffice. Ginger powder too can be substituted for fresh ginger. One teaspoon of dry ginger powder mixed with ¼ cup of water is equal to 2 teaspoons of fresh ginger paste, so half a teaspoon of ginger powder would be equal to 1 teaspoon of fresh ginger paste.
A good curry depends on the right ingredients and the time taken to fry the onions and other ingredients which give it depth and body. The onions should be chopped or diced finely. This will ensure that the onions will fry evenly and create a base for the curry by combining the flavours of all the other ingredients. Take care however, not to burn the onions and garlic while frying or the curry would taste unpleasant.
While using dry spice powders, always mix them together with a little water before adding them to fried onions. This spice mixture should be fried on low heat for at least 3 or 4 minutes, to eliminate their raw taste. The delightful aroma will let you know when the spices are fried enough. If the spice mix looks dry and starts to burn, add a little more water or chopped tomatoes if the recipe calls for it. When the oil starts to separate from the mixture you could add the meat and fry it in this spice mix for five to ten minutes. This helps seal the meat slightly and retain its moisture.
Care should be taken to cook fresh and tender meat whenever possible. If the meat is marinated or mixed with the curry stuff or curry powder for some time before cooking, it not only locks in the flavours and juices but also helps to tenderize the meat so that cooking time is reduced considerably.
Any good cooking oil could be used in the preparation of Anglo-Indian dishes such as Sun flower Oil, groundnut Oil or even Olive Oil depending on one's preference. Use only White Non-Fruit Vinegar or Malt Vinegar in the dishes calling for Vinegar as fruit based vinegars could change the taste of the dish.
Avoid random garnishing of every dish with chopped coriander / cilantro / celery as these ingredients change the flavour and taste of a dish. Garnish only if the recipe says to do so.
Timing is also very important. A dish should never be under or over cooked or else it loses its flavours and nutrients
Finally, follow the recipe for each dish scrupulously. Don't experiment by adding or changing ingredients as the
dish wouldn't taste the way it should have. Each dish calls for certain ingredients and the spices and condiments should be used judiciously in each dish, so as to bring out the flavour and strength of each spice or ingredient. Therein lies the secret of ANGLO-INDIAN CUISINE
To conclude in the words of Wolfgang Puck "Cooking is like Painting a Picture or Writing a Song. Just like there are only so many Colours or Notes, there are only so many flavours - It's how you combine them that sets you apart"
(Visited 7 times, 1 visits today)